Please note that our main website is currently under redevelopment and this content is temporary

.
What is Lens Calibration?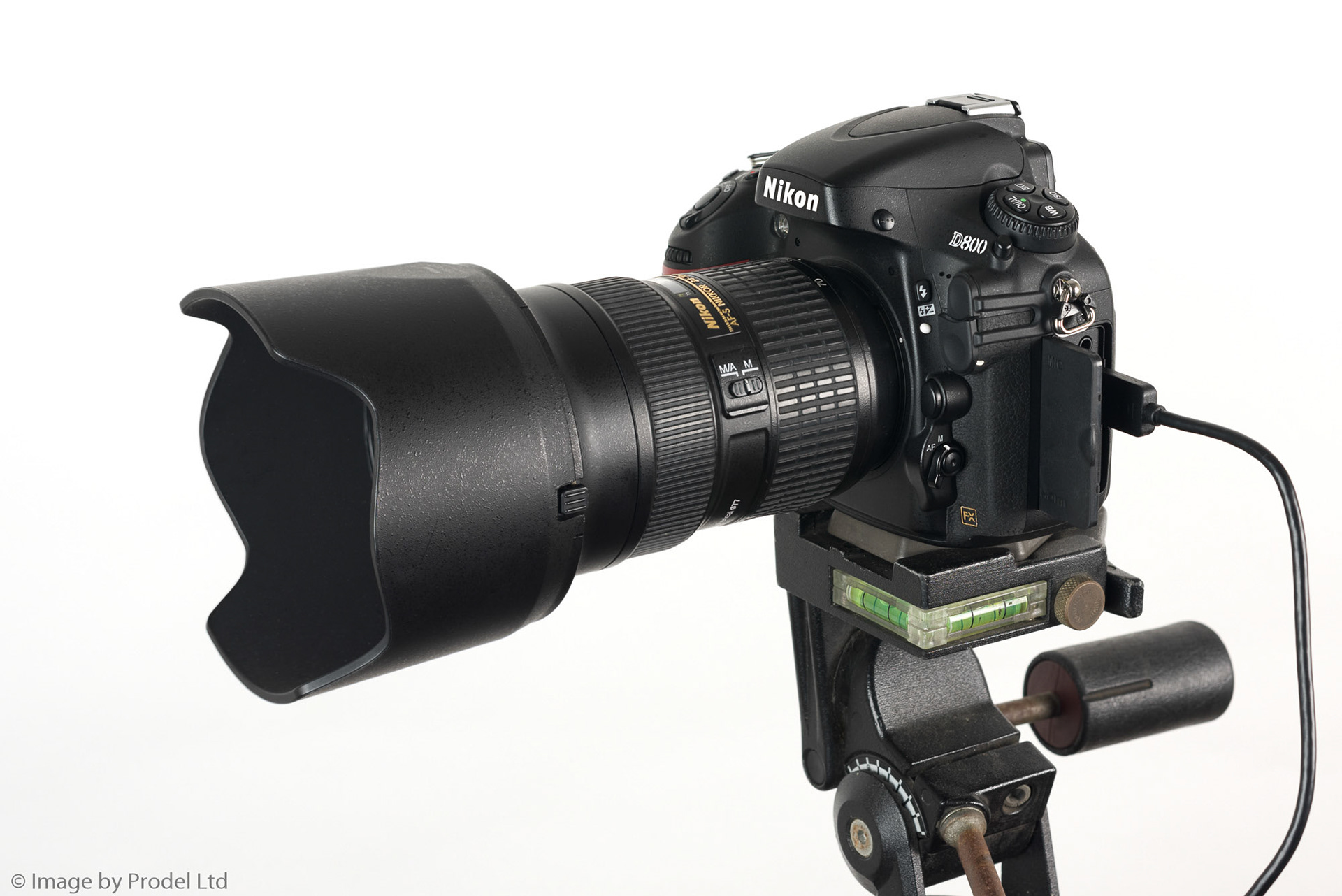 Your camera and lenses were manufactured separately and each will be subject to their own tolerances.  So the chances of those tolerances working together "out of the box" to achieve the best auto-focus operation possible are quite slim. 

Even for brand new equipment, calibration will bring benefits,

and for some serious or professional photographers, calibration is their first priority after buying new equipment!
After all, why spend hundreds, if not thousands of pounds, on equipment, and not get the best out of it?
The

problem

is basically that when the camera auto-focus mechanism "locks" on to the subject, the actual focus point is often set either slightly in front of, or slightly behind, the spot you intended to "lock" on to.  The result is that focus is a bit "soft" and not as pin-sharp as you would expect from the equipment you spent lots of money on!
Thankfully though, many 
m

edium and high-end cameras have a fine adjustment setting in the menu system which can compensate for this error.  Where your original setting is "out" by any significant amount, after calibration, you should immediately notice a 
significant improvement in image sharpness and much
more detail in your images!  Sharper images = more keepers!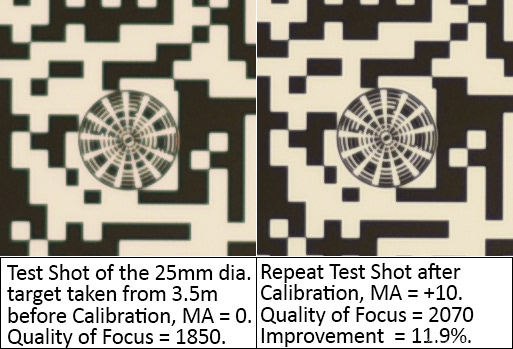 And because 
each calibration setting is "registered" to each individual lens in the camera software, once you have calibrated each camera and lens combination, you are all set!  You will be able to change lenses any time you like and the camera will automatically recognise the individual lens fitted and apply the correct adjustment.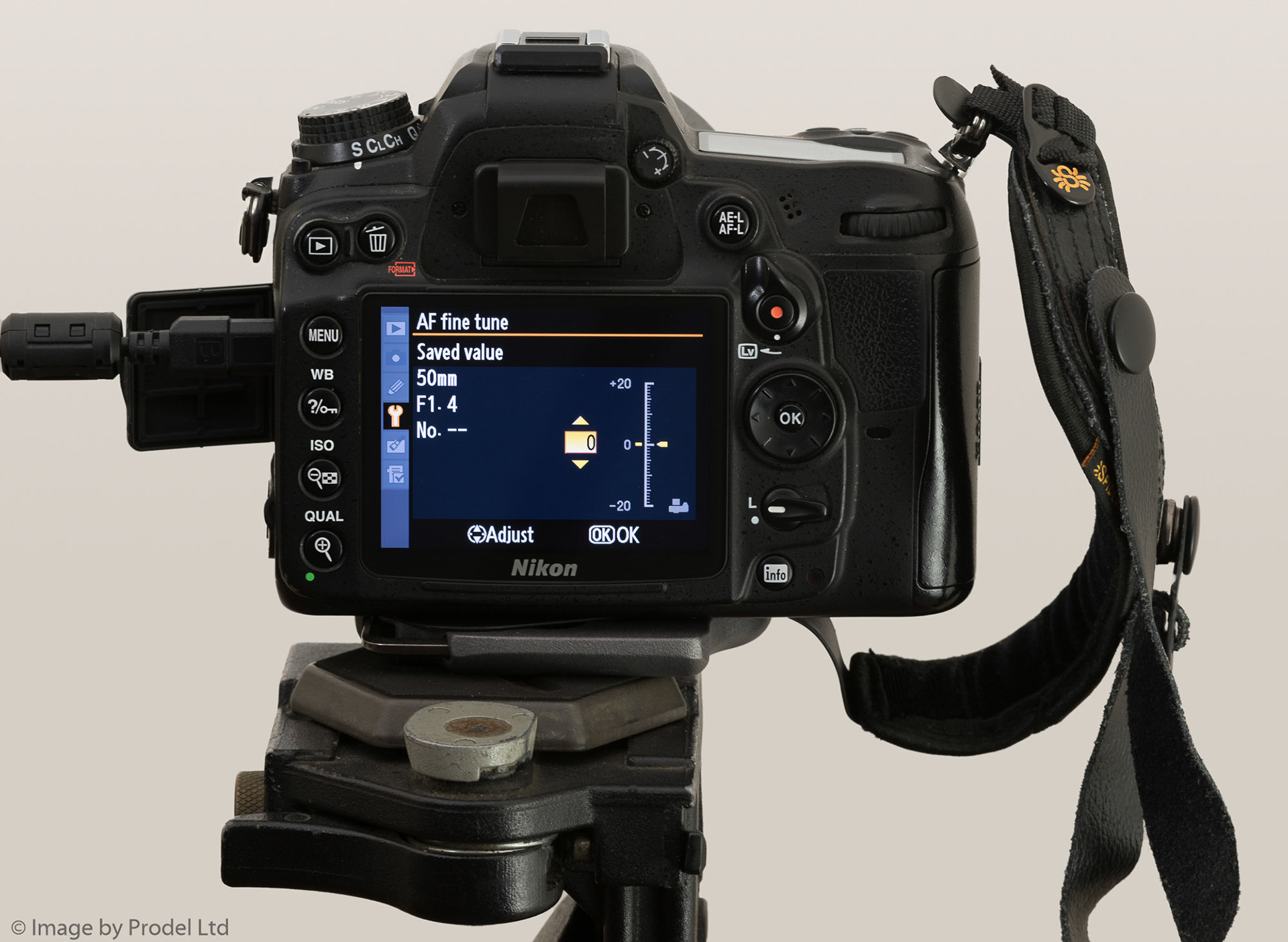 What Kind of Photography Benefits?
Essentially,

any type of photography where you use auto-focus

, for both still and moving subjects.
Even where you shoot exclusively with manual focus and/or "tethered" in your studio, you are still likely to find the information you gain from Aperture Sharpness Profile testing really helpful in making lens choices for different tasks.
We are proud to use Reikan Technology Ltd Focal calibration software and this supports a wide range of Nikon and Canon camera models, as listed below.  For other models that are not listed, if the camera supports "fine tune adjustment", it may still be possible to calibrate using manual methods.  Please call us to discuss.
D3s; D3; D3X; D4; D4s: D5; Df; D800; D800E; D810; D810A; D850; D300; D300s;
D500; D600; D610; D700; D750; D7000; D7100; D7200; D7500
EOS-1D Mark III; EOS-1Ds Mark III; EOS 1D Mark IV; EOS-1D X; EOS-1D X Mark II; EOS 5D Mark II;
EOS 5D Mark III; EOS 5D Mark IV; EOS 5D S/R; EOS 6D; EOS 6D Mark II; EOS 7D; EOS 7D Mark II;
EOS 50D; EOS 70D; EOS 80D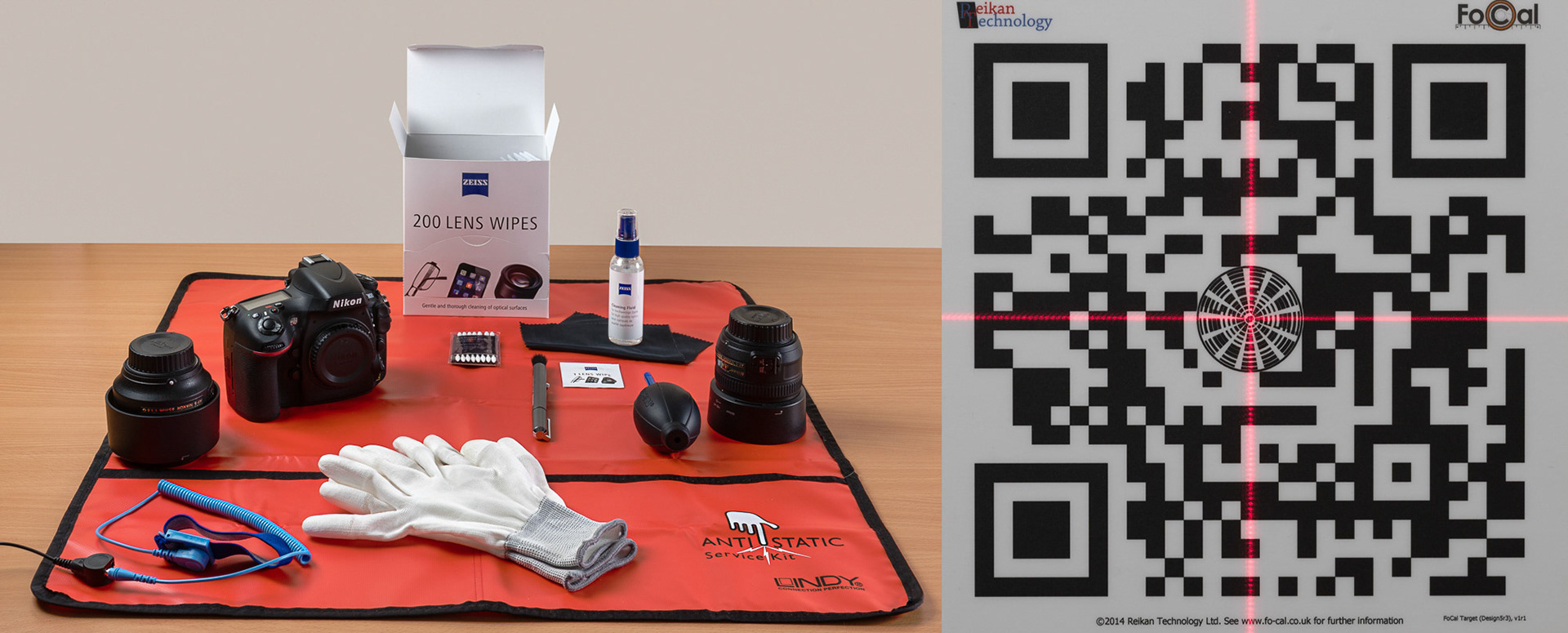 With

20+ years experience in technology equipment acceptance testing

, we bring a highly professional approach to camera body/ lens auto-focus calibration, with robust methods and procedures, clear reporting and the flexibility to tailor our

Calibration

and

Aperture Sharpness Profile

testing to suit you.
The Prodel Photographic unit in Tingewick, Buckingham, is a listed UK Reikan Focal Test Centre and provides a professional working environment and

highly repeatable test conditions for lenses up to 400mm

.  Longer lenses (or lens/ teleconverter combinations) can be can be accommodated by arrangement.  However, if calibrating a "batch" of long lenses, we may move the testing to a larger commercial studio at an off-site location.  
We work on an

appointment system

so we can offer a

same day service

, so you can drop off your equipment and pick it up later the same day!  You are also welcome to wait and relax with a tea or coffee and learn more about lens testing in the process!
For busy Clients, we also offer a

weekday evening

 service and a

Saturday

service at no extra charge.  If you have a real emergency, just call us anytime!  
If you can't drop your equipment off, a personal collection and return service is available, if required, based on a rate of £1.00 per mile travelled (which also includes for our time).  Alternatively, you are very welcome to arrange your own courier. 
Of course, it goes without saying that Prodel is fully insured.
For

STANDARD CALIBRATION

, we charge a standard £65 for each camera body, plus £20 for each camera-lens combination tested and calibrated.  
For example, for one camera body with three lenses, the charge would be £65 + (3 x £20) = £125.
 

-

Visual Inspection and cleaning of lens optical surfaces (

if required

) at the time of booking in. (

Electrostatic precautions are observed and lens cleaning is with Zeiss wipes and fluid, if necessary.  Note we may use a blower if we observe any dust or debris inside the camera body but will NOT lift the mirror or touch any internal part of the camera

)
 -

 

Standard

 

Auto-Focus Calibration Test

. (

Using test software, generally shooting "wide open" over the recommended minimum test distance, covering both ends of the zoom range for zoom lenses

)
- Full Test Reports

 (

PDF copies of the software generated test reports - see extract below

)
 - Summary Test Report

 (Our own summary test report is

included as standard

,

 

recording what we tested and the key results)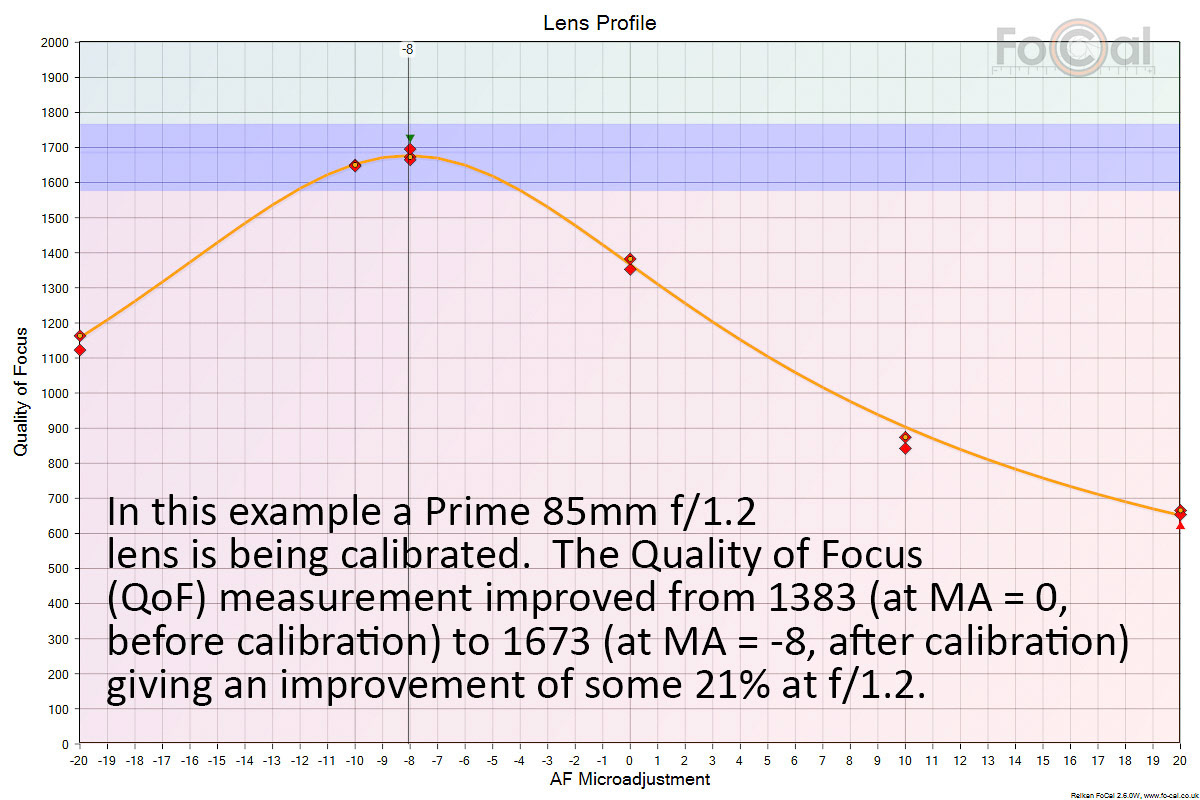 .
Aperture Sharpness Profile Testing
This test is a test of

sharpness over the full range of lens apertures

 and will 
enable you to understand the true performance of your lens and identify sweet spots, diffraction points etc).  
We think this is an essential part of really knowing your camera and lens performance.  Just see the additional information you get from this below!
We will happily include this in your testing requirement for a modest extra charge of £10 for each camera-lens combination tested and calibrated.  
So, for example, for one camera body with three lenses, for both Calibration AND Aperture Sharpness Profile testing (at both ends of the zoom range for zoom lenses) the charge would be £65 + (3 x £30) = £155.
If you shoot exclusively with manual focus, or tethered, we'll happily do this test for you on its own, if you prefer, so you still get the benefit of understanding the performance profile of your lens.
Where this test is included, we also prove an "at a glance" comparison of the lenses tested with each camera body (see example below) to help you choose the right lens for the right situation.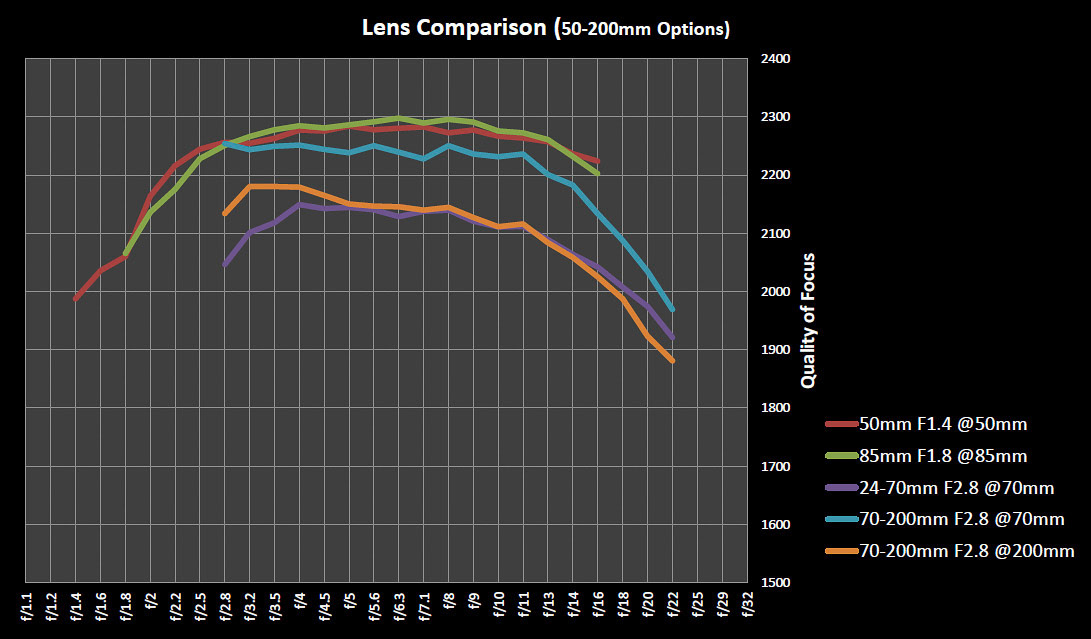 A Post-Test Consultation

 (

A 1-2-1

review 

of the summary test report, either in person or by phone)

is also 

included

, so we can highlight any key observations and help you understand the focus performance of your lenses more fully
Additional or Bespoke Testing
We will happily amend the test parameters to suit your specification (

free of charge

), or carry out additional tests (

e.g. at different test distances or focal lengths

) to suit your typical usage, at a standard charge of £15 per extra test.
Will I ever need to Re-Calibrate?
With the little knocks and bumps of everyday usage, calibration settings can move over time, 

making periodic checking a very wise precaution

for the serious user.  There is no magic formula for how frequently this should be and it depends on usage.
We suggest that you take some "controlled" reference shots of a "permanent" subject as soon as possible after calibration.  Then, if you suspect the calibration needs to be re-checked in future, you'll have something to refer back to.
However, we are looking to build long-term relationships with our clients based on great service and good value. So we'll offer substantial discounts to returning customers who would just like a quick, undocumented (i.e. without reports) "re-check" under our controlled conditions, so you know whether the full test is required.
To Book (

or if you have any questions

)